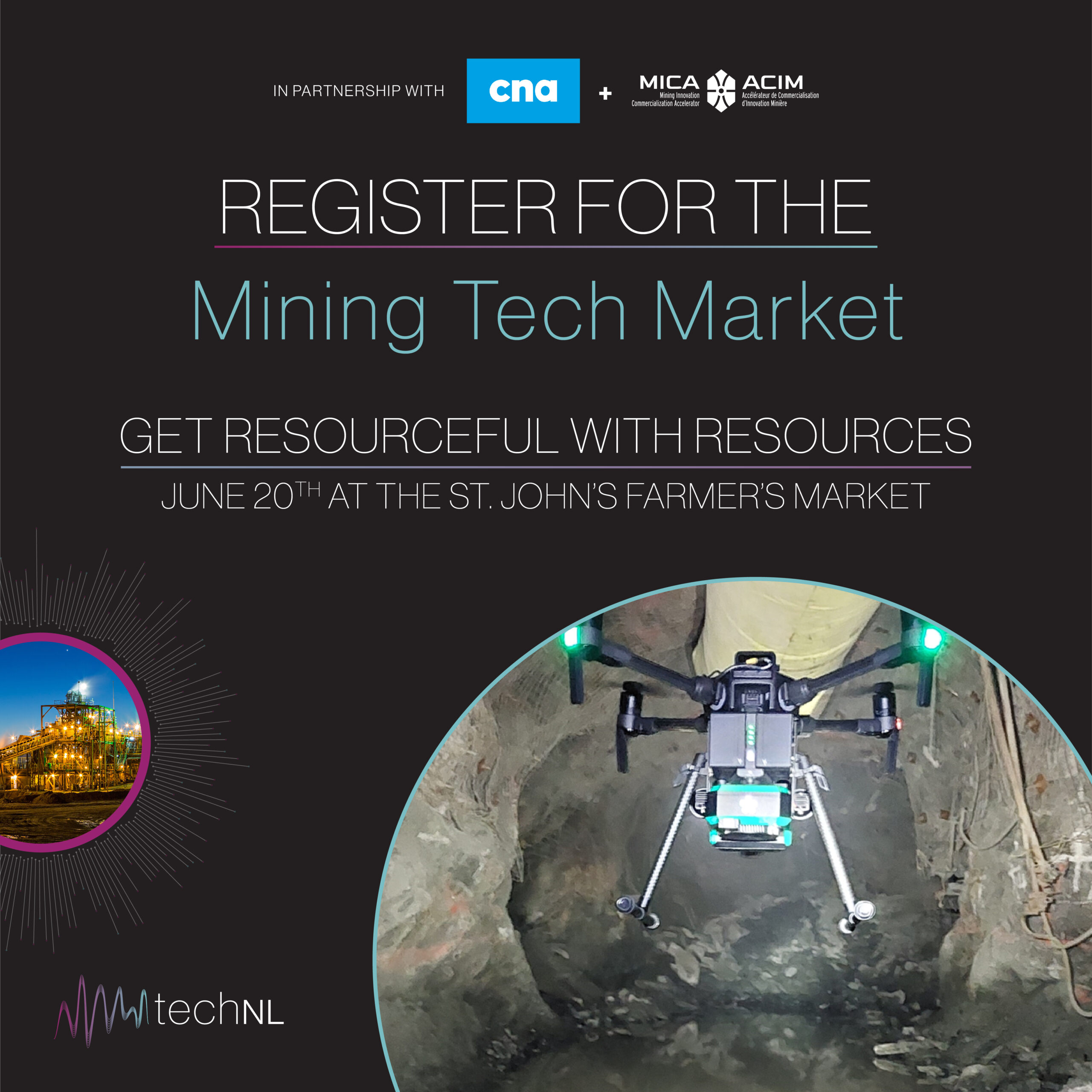 Mining Tech Market
Are you in the mining business and trying to revolutionize your exploration and operations? Having trouble finding the right technology to achieve sustainable results? Come to the Tech Market to connect with local tech companies that have the right solution for you!
techNL, in partnership with College of the North Atlantic, is hosting a Business-to-Business engagement opportunity for tech companies to pitch their service/solution to the mining sector.
Sponsored by the MICA Network, this unique opportunity is a fun and interactive quick-pitch workshop to showcase solutions and generate connections.  The day will be organized by solution theme.
Theme 1: Increase Mine Production Capacity, at Lower Cost
Theme 2: Reduce Risk in Health, Safety, & Security
Theme 3: Implement Smart Mining Systems
Theme 4: Reduce Environment Risk and Long-Term Liabilities
See the AGENDA for the list of times and presenting companies.
The day-long event will happen on Tuesday, June 20th, at the Farmer's Market starting at 9:00 am. Doors open at 8:00am
For parking during the event, please park on Lot 3 at the Farmer's Market. See the LINK for more information.
For those flying in to attend this event, PAL Airlines has offered a special discount. Please contact dwayne@technl.ca for more information on this.
Register now!
If you are interested or looking for more information, contact Dwayne Hopkins (dwayne@technl.ca).

Thank you to our Sponsor: MICA Network
The Mining Innovation Commercialization Accelerator (MICA) is a $112 million pan-Canadian initiative seeking to make the mining industry more efficient and sustainable. The network connects innovators with mining stakeholders to find and integrate new technologies and solutions into current and upcoming operations.
About our Partner: College of the North Atlantic
College of the North Atlantic (CNA) is Newfoundland and Labrador's public college with a rich history dating back more than 55 years. One of the largest post-secondary educational and skills training institutions in Atlantic Canada, CNA operates 17 campuses across the province and offers more than 100 full-time diploma, post-diploma, advanced diploma and certificate programs across five schools and enrolls more than 7,000 students each year.
About our Industry Association Partner: Mining Industry NL
Mining Industry NL is a not-for-profit industry association representing companies engaged in the mining and metals industry in the province. With a strong mandate focused on advocacy, public outreach and the promotion of Newfoundland and Labrador's mineral potential as a top-tier global investment jurisdiction; their vision is to ensure that Newfoundland and Labrador is the best place in the world to operate a mine. Their members include junior explorers, mine developers, mine operators, and a range of supply and service firms supportive of the industry.