PROGRAMS
High School Program
About the Program
The High School Tech Immersion Program (HSTIP) is a paid, six-week, work-integrated learning opportunity that pairs high school students with Sponsors from Newfoundland and Labrador tech and tech-enabled companies.
Running July 18 to August 26, 2022, program has two main elements: training and on-the-job experience.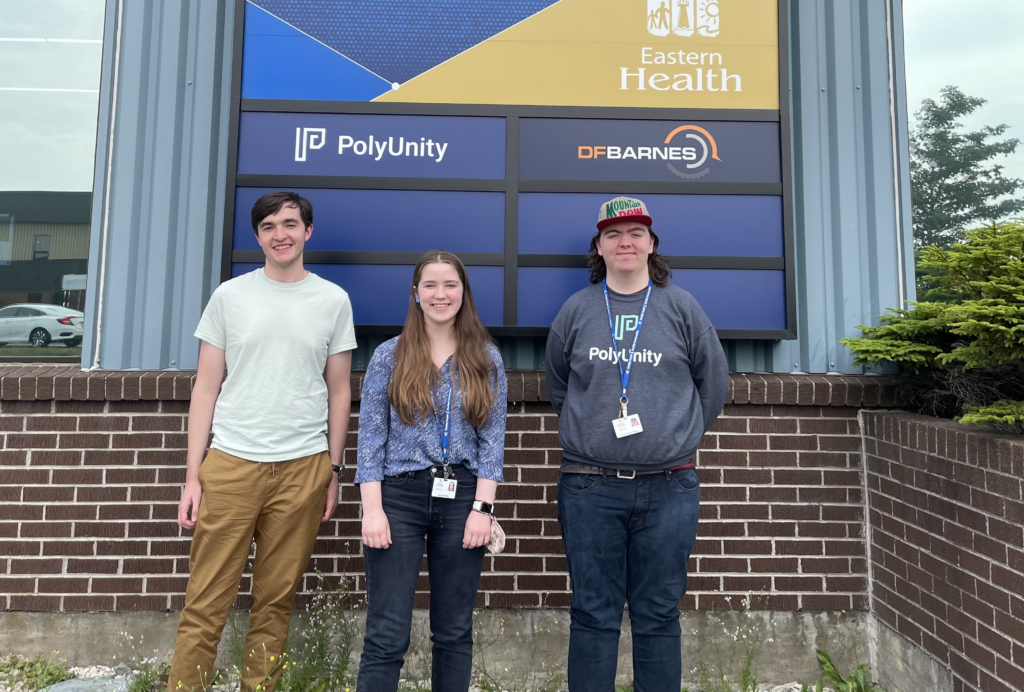 2021 participants Alex, Sophia, and Luke learned so much at PolyUnity
Training 
The program will kick-off with a full-day orientation that includes workplace basics and program expectations. Each week, students will receive one afternoon of training on business-side topics like SaaS sales, business development, marketing and more. And, throughout the duration of the program, students will spend their mornings in a Python programming bootcamp administered by Keyin College. Upon successful completion they will receive a Python micro-credential.
"I'm just proud of how much I've learned and how far I've
come. And, I'm a lot more confident going into
engineering next year."
Working
Afternoons will be spent working with their tech industry Sponsor. While their tasks will be determined by and specific to their Sponsor, generally we expect them to undertake meaningful work appropriate to skill-level, job-shadowing, and generally learning about their Sponsor company, the industry, and what a career in tech is really like.
"The program showed me that I don't have to go out of
the province to get a great job at a wonderful
company."
2021 participant Luke gives a skill presentation at PolyUnity
Test
Your content goes here. Edit or remove this text inline or in the module Content settings. You can also style every aspect of this content in the module Design settings and even apply custom CSS to this text in the module Advanced settings.
For Students
Do I need to know how to code?
No. In fact, you do not need to have any tech experience to take part in this program, just a keen interest in learning about a career in the tech industry.
If I am selected, what is expected of me?
Foremost, you are expected to attend and engage in the program each day for the full six weeks. Students will not be granted vacation days within this period. You will be expected to complete, to the best of your ability, work assigned both in training and on-the-job. You will act in a respectful, inclusive, and accountable manner. Most importantly, you'll also be expected to have fun, learn, and enjoy your summer!
Will I be paid?
Yes. You will be paid at a rate of $15 per hour, for 35 hours each week, for six weeks.
Do I need to live in the St. John's-metro region?
No. We encourage students from all over Newfoundland and Labrador to participate. Training will be conducted virtually, and some Sponsor spots will be available virtually.
How do I apply?
If you are a Newfoundland and Labrador student in Grade 10, 11, or 12 as of June 1, 2022, just complete the application form at this link.
The deadline for student applications is May 30, 2022.
What is the selection process?
Each application is reviewed by a committee of techNL staff. Based on a pre-established rubric, individuals are screened in or out, given a score, and placed into categories based on interests. High scoring individuals within each category are then reviewed for alignment with the available program Sponsor spaces. Sponsors are provided with the applications of several students for review and may request a virtual "fit" call. The final placement decision is made by the Sponsor.
For Sponsors
Why should I take part?
Because you're committed to fostering a love of tech in the young people of our province! And also because:
Ideas and innovation can come from anywhere, including high school students.

Young people are a breath of fresh air, bringing big energy and excitement to your team.

Engaging with talented, interested young people is a great "longtail" recruiting strategy.

Every program participant becomes an ambassador for your company and the tech sector amongst their friends and schoolmates.

Building the talent pipeline is everyone's responsibility.

Initiatives like this one are an important part of your corporate social responsibility strategy.
Who are the students and how are they selected to take part?
Participants are Grade 10, 11 and 12 students from all over Newfoundland and Labrador. They have independently sought out and applied to this program, thereby showing their level of interest. Some have a very high level of technical acumen and already know they want a career in tech, while others less experienced but very keen to find out if a career in tech is right for them.
Each application is reviewed by a committee of techNL staff. Based on a pre-established rubric, individuals are screened in or out, given a score, and placed into categories based on interests. High scoring individuals within each category are then reviewed for alignment with the available program Sponsor spaces. Sponsors are provided with the applications of several students for review and may request a virtual "fit" call. The final placement decision is made by the Sponsor.
techNL is committed to increasing diversity and inclusion in the tech sector by empowering young women and other equity-deserving groups to take part in this program.
How is the program structured?
Below you'll find a proposed schedule, which is subject to change. The schedule will be finalized before program launch.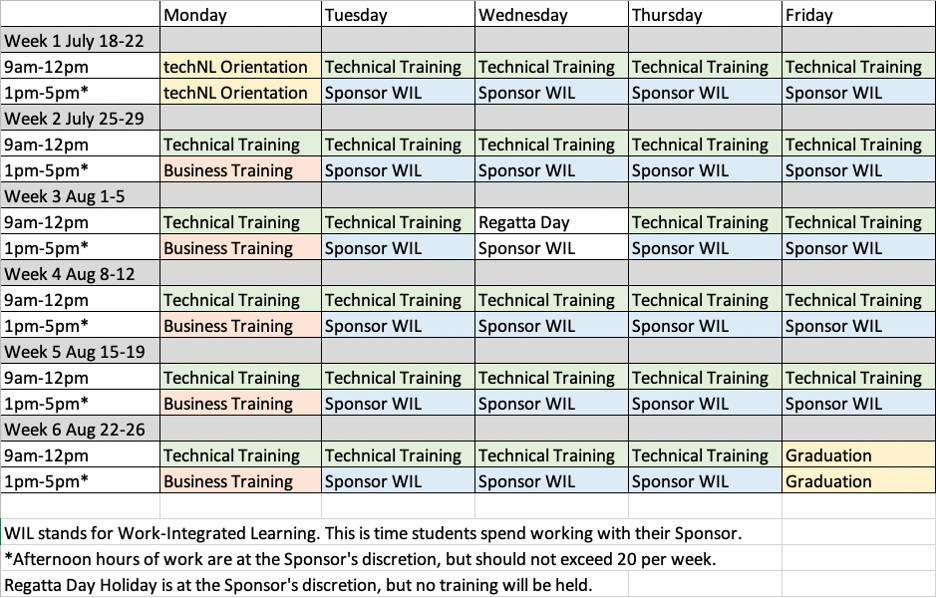 What do students do during Sponsor WIL hours?
It's up to you! You can: assign technical or business tasks appropriate to their skill level, invite them to sit in on meetings, let them listen in on customer success calls, get them to create social media content, have them undertake research, or simply get to know your company and staff. If you're unsure what to assign your students or worried you might not have enough work for them, techNL will be providing Sponsors with a playbook that includes suggested tasks and projects, as well as self-directed learning resources. 
Did techNL run this program last year?
Yes and no. 2021 was the inaugural year for our high school outreach, and as such we learned much. Based on that, program modifications have been made including:
Program length decreased from 9 weeks to 6.

Reduced administrative load for Sponsors as techNL will now manage student payment.

Greater balance between training time and time spent working with Sponsors. Over the course of six week, students spend 88 hours under the direction of their Sponsor and 115 in training/orientation/other.

Addition of business-side training on topics like sales, business development, customer success and more, in addition to programming.

Inclusion of a fulsome orientation session for Sponsors.

Creation of a playbook that includes suggestions for tasks and self-directed learning that can be assigned to students at their employer's discretion. The playbook also includes ideas on how Sponsors can communicate their commitment to youth with the world.
I'm in. What do I have to do?
Let us know you want to participate and how many students you can sponsor

Make a one-time payment to techNL

Attend a 90-minute program orientation

Select a student from those recommended to you

Meet your student for introductions and company orientation

Upon program start, assign tasks and activities to your student for the afternoon hours as per the schedule above. Over the course of six week, students will spend a total of 88 hours under the direction of their Sponsor.
Frequently Asked Questions
Is the program virtual or in-person? This is at the employer's discretion. It is important to provide opportunities to students who live outside the metro region, so we hope to have a balance of the two.
What happens if the student calls in sick or requests vacation? This is at the Sponsor's discretion; however, we make it clear to students that they are expected to attend all days of the program.
Is this an internship? This program is weighted such that students spend about half their time learning and half with their Sponsors. Thus, a better term is work-integrated learning. What is similar to an internship is that Sponsors provide experience in and exposure to the real world of tech careers. You can think of it as "internship lite".
What does the Sponsorship fee cover exactly? Your Sponsorship covers the entirety of the program for your student, orientation, training, and work included. You will receive value in the form of meaningful work done by your student in return for your financial contribution, but Sponsorship is also about providing a young person with a holistic, immersive introduction to the sector with the intent of encouraging them to choose a career in tech.
We'd Like to Thank
The 2021 iteration of this program was made possible by the support of ACOA and the Government of Newfoundland and Labrador. We heartily thank Keyin College for partnering with us to provide the Python programming bootcamp. Finally, we are immensely grateful to the industry members who stepped up and took part.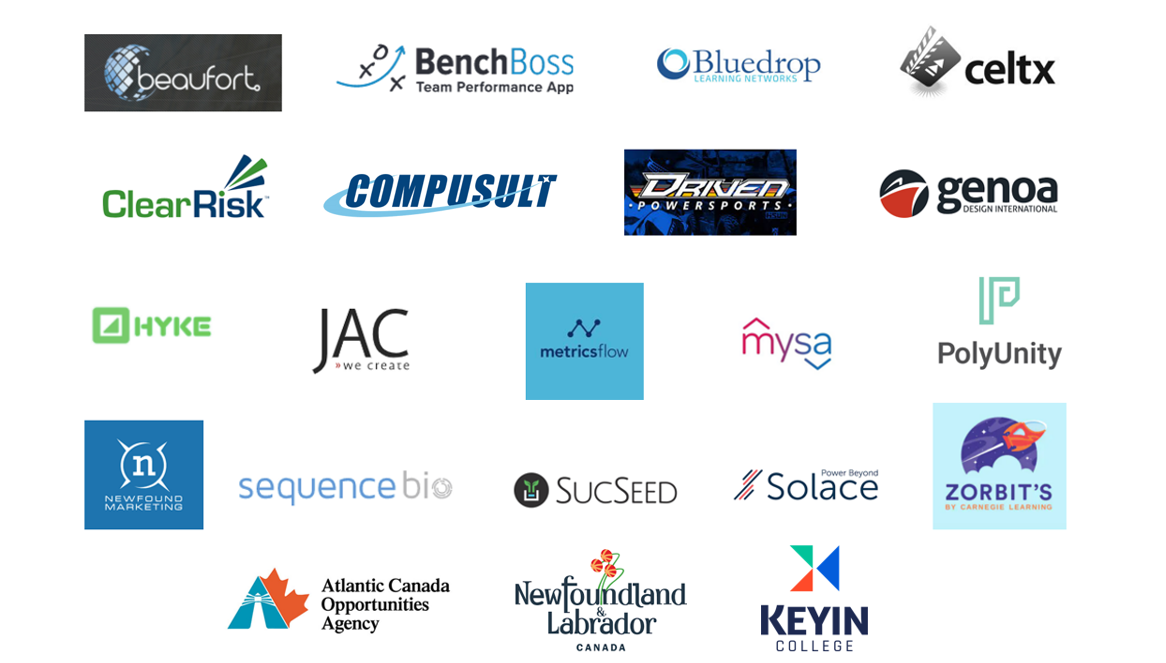 Bounce Health Innovation
Bounce Health Innovation (Bounce) was launched in January 2018 as a result of increasing interest in health innovation spurred from the local Hacking Health initiative – a series of open innovation networking events that connect frontline healthcare workers with developers, designers, patients, and entrepreneurs. Their mission is to accelerate the growth of the health innovation sector in Newfoundland and Labrador (NL) with a vision to help the province become the testbed for medical technology innovation in North America. They engage with and support medical innovators and entrepreneurs by leveraging resources within a unique health innovation ecosystem. They are a mini-cluster in medical technology composed of the following participating organizations: Eastern Health, Memorial University (the Memorial Centre for Entrepreneurship, and the Faculty of Medicine), Genesis, the Provincial Government, Newfoundland and Labrador Association of Technology and Innovation (NATI), and the Newfoundland and Labrador Centre for Health Information (NLCHI).
Digitalization in Oil and Gas
Digitalization of the oil and gas industry has the potential to reduce emissions, increase competitiveness and create employment. In collaboration with Noia, techNL (formerly NATI) began to investigate how to leverage this opportunity for its members. Various successful events were executed such as a Big Data Oil and Gas Forum, Hacking Oil and Gas Cafés, and the first ever Oil and Gas Hackathon in NL in 2019. These events, along with a report from the Digital Transformation Working Group, highlighted the need and creation of the Digital Oil and Gas Initiative (DOI).
With continued support from Noia, techNL will drive the DOI to work with key industry stakeholders to focus on the identification of value producing digitalization opportunities and conduct key strategic capacity building activities for local tech companies in the oil and gas sector. By expanding our local expertise and technology skill set through the digital transformation process, the DOI will spur innovation to deliver local digital solutions for the industry on the Field of the Future.
Business Tech Solutions
COVID-19 severely impacted small businesses across Atlantic Canada. As the pandemic has reshaped the way business is conducted, companies need to adapt and pivot to reach new customers and opportunities. That is why the provincial and federal governments are helping local companies adapt and adopt new technologies.
This program was administered by techNL to help businesses purchase digital solutions and access expertise so they could create online sales systems and generate new revenue streams. With an investment of more than $4.8 million, the program has helped more than 300 small and medium-sized businesses in the province.
Business Tech Solutions Program
High School Internship Program

235 Water Street, Suite 600
St. John's, NL A1C 1B6
Phone 709.772.8324
Fax 709.757.6284
Email info@technl.ca