PROGRAMS
High School Program
We are developing the 2023 program and hope to have an update soon. This project is subject to available funding.
Read the 2022 program report here.
About the Program
The techNL High School Tech Immersion Program places grade 10-12 students from across Newfoundland and Labrador in technical and business roles with local technology companies during the summer. Through this program, students are exposed to new skills, networks, and career possibilities with the aim of inspiring youth to complete related post-secondary education and seek employment in the province's technology sector.
Program Objectives
Provide high school students with an inside look at the unique environment, community, and culture of a technology company.
Help high school students improve their technical and business skills, build trust in their abilities, increase awareness, and better prepare them for opportunities in the technology sector.
Help participating companies become more innovative; students provide fresh ideas and perspectives that often spark innovation and can improve processes and increase efficiency.
Help companies discover and train the future workforce in the technology sector.
Help companies complete tasks or projects related to software or web development, product design, data management and analysis, lead generation, marketing, customer success, and more.
Enable high school students to develop vital personal networks and relationships with industry workers and other students who share their passion for technology and computing.
Improve the participation of women and other underrepresented groups in the tech sector.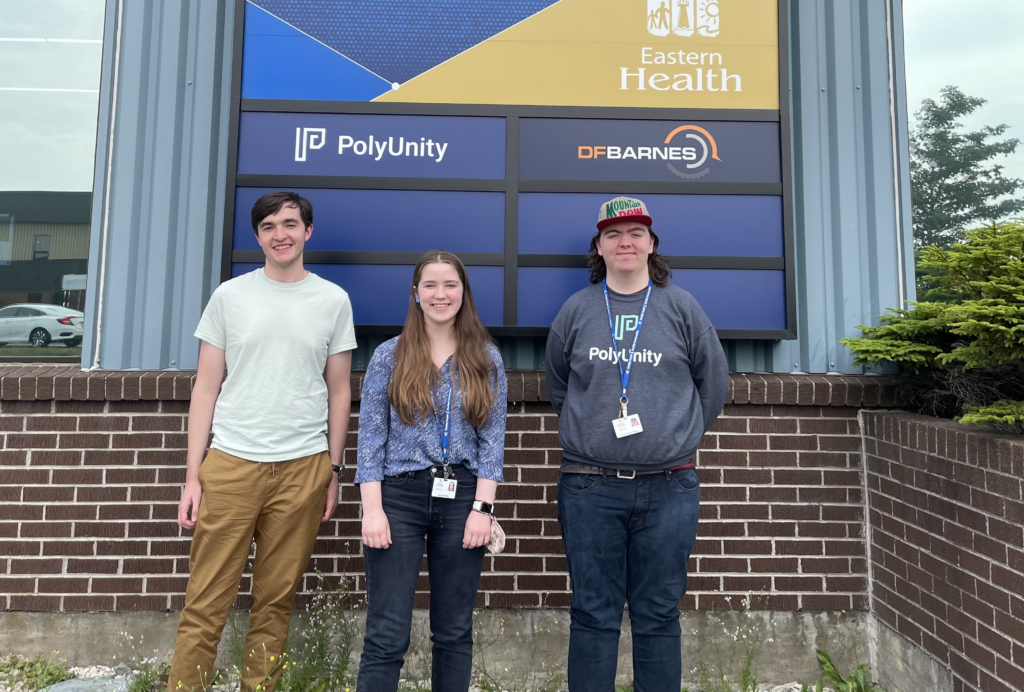 2021 participants Alex, Sophia, and Luke learned so much at PolyUnity
Student Feedback:
I was placed at my company for the summer, and I couldn't believe how quickly it went; I wish I could have stayed longer! They are an important company to work with and the team was so welcoming and seemed to enjoy having me there. I collaborated with different teams and usually would spend some part of the day shadowing a colleague, attending meetings, and working with people to fix bugs, do quality assurance testing, and code a new version of the product. When I needed help they were there to answer my questions, and I am walking away with new skills in Javascript and GitHub and I know more about how a software team works. I also enjoyed the learning opportunity offered through Keyin College where I learned more about Python coding. Why did I participate? I've always had an interest in technology and I wanted to see what it was like to work in the sector. Others should participate because you can learn so much from experienced professionals and discover new interests!
"I'm just proud of how much I've learned and how far I've
come. And, I'm a lot more confident going into
engineering next year."
Employer Feedback:
Our company employed two remote students in 2022. They joined our web development team and spent time researching topics related to our product. They also helped research tactics to promote diversity, equity and inclusion within our company and product. Each student brought their own strengths to the table; one was very good at communicating their findings, and the other was extremely efficient. Both showed eagerness, passion, enthusiasm and dedication. These strengths came in handy because both students worked remotely and that requires dedication to communication and enthusiasm for their work. Supporting opportunities for rural students is important to us as they are often less aware of programs and pathways available to them. Why did we participate? We are passionate about inspiring young minds and recognize how we can be inspired reciprocally. Students come with new insights and new ideas, their voice takes you outside the box, and you will be surprised at their motivation to learn.
"It's so invigorating, inspiring, and still wonderfully grounding to work with young minds!"
– 2022 Employer
2021 participant Luke gives a skill presentation at PolyUnity
2021 Employers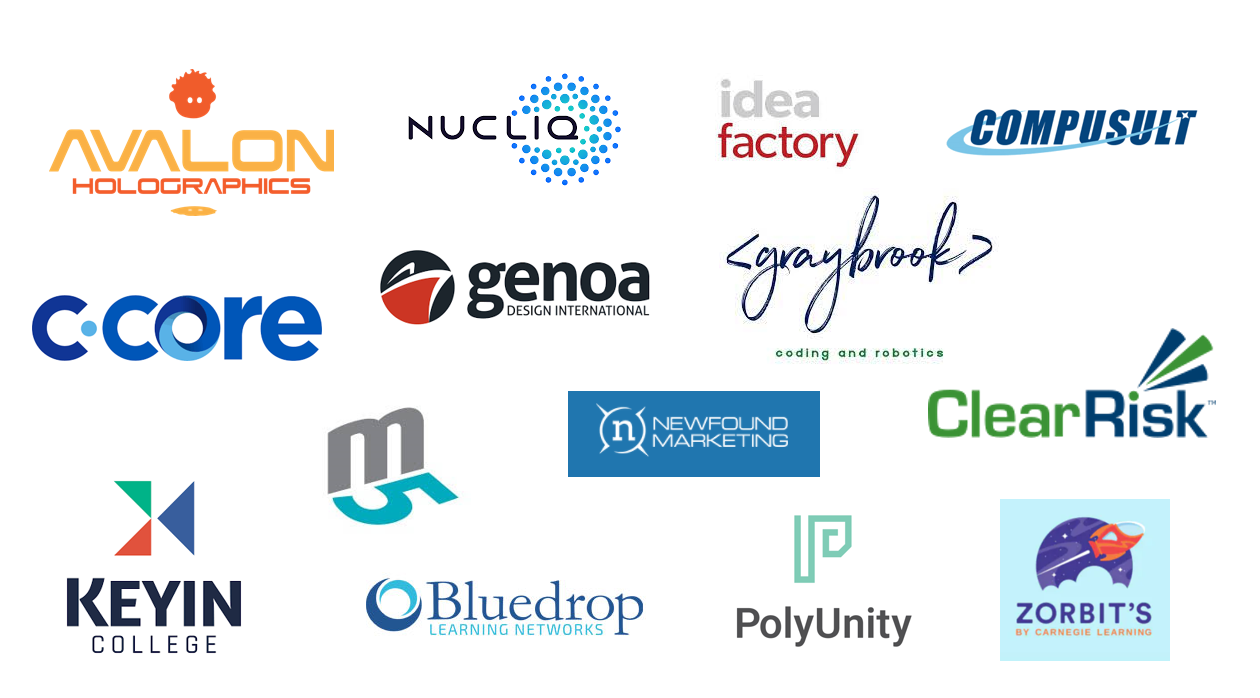 Bounce Health Innovation
Bounce Health Innovation (Bounce) was launched in January 2018 as a result of increasing interest in health innovation spurred from the local Hacking Health initiative – a series of open innovation networking events that connect frontline healthcare workers with developers, designers, patients, and entrepreneurs. Their mission is to accelerate the growth of the health innovation sector in Newfoundland and Labrador (NL) with a vision to help the province become the testbed for medical technology innovation in North America. They engage with and support medical innovators and entrepreneurs by leveraging resources within a unique health innovation ecosystem. They are a mini-cluster in medical technology composed of the following participating organizations: Eastern Health, Memorial University (the Memorial Centre for Entrepreneurship, and the Faculty of Medicine), Genesis, the Provincial Government, Newfoundland and Labrador Association of Technology and Innovation (NATI), and the Newfoundland and Labrador Centre for Health Information (NLCHI).
Digitalization in Oil and Gas
Digitalization of the oil and gas industry has the potential to reduce emissions, increase competitiveness and create employment. In collaboration with Noia, techNL (formerly NATI) began to investigate how to leverage this opportunity for its members. Various successful events were executed such as a Big Data Oil and Gas Forum, Hacking Oil and Gas Cafés, and the first ever Oil and Gas Hackathon in NL in 2019. These events, along with a report from the Digital Transformation Working Group, highlighted the need and creation of the Digital Oil and Gas Initiative (DOI).
With continued support from Noia, techNL will drive the DOI to work with key industry stakeholders to focus on the identification of value producing digitalization opportunities and conduct key strategic capacity building activities for local tech companies in the oil and gas sector. By expanding our local expertise and technology skill set through the digital transformation process, the DOI will spur innovation to deliver local digital solutions for the industry on the Field of the Future.
Business Tech Solutions
COVID-19 severely impacted small businesses across Atlantic Canada. As the pandemic has reshaped the way business is conducted, companies need to adapt and pivot to reach new customers and opportunities. That is why the provincial and federal governments are helping local companies adapt and adopt new technologies.
This program was administered by techNL to help businesses purchase digital solutions and access expertise so they could create online sales systems and generate new revenue streams. With an investment of more than $4.8 million, the program has helped more than 300 small and medium-sized businesses in the province.
Business Tech Solutions Program
High School Internship Program

235 Water Street, Suite 600
St. John's, NL A1C 1B6
Phone 709.772.8324
Fax 709.757.6284
Email info@technl.ca