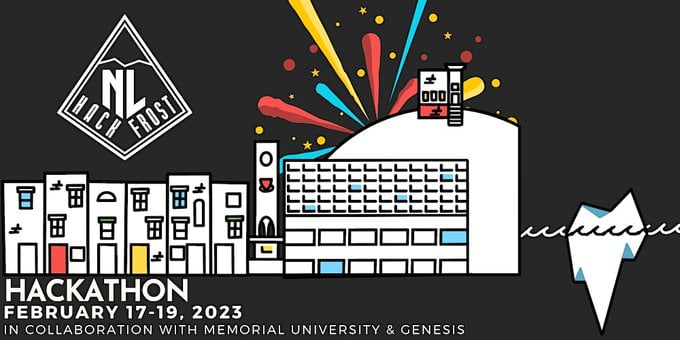 Hack Frost NL 3.0 with Genesis
Register here!
The 3rd annual hackathon from Hack Frost NL: team up, learn new concepts, tackle real-world problems, and connect with professionals!
No matter your experience level, this hackathon is for you!
This year, we are challenging you to explore carbon emissions. The full challenge will be announced during the hackathon. We'll have workshops, events, and mentors throughout the weekend to keep you involved!
Form a team of up to 4 members and bring you rideas to life! Build a concept based on what you learned during the hackathon, demo your project to the judges, and WIN up to $6000 in prizes!
Some FAQs:
What is a hackathon? A hackathon is an opportunity to learn new concepts about tech and apply them to some cool ideas. These ideas are formulated to create things like websites, apps, or unthinkable solutions to a problem presented by the challenge prompt of the hackathon.
Who can register? Anybody! The hackathon is open for university/college students, high school students, and working professionals from all backgrounds.
When and where? The hackathon will begin on Friday, March 31st around 6pm and end on Sunday April 2nd around 6pm. We are partnering with the Genesis Center this year, and we will be having the hackathon in-person at Memorial University (more details will be posted in Discord).
What happens in a hackathon? Our hackathons are 48 hours long. Day 1 is the challenge announcement & team formation. Day 2 is mentorship, workshops, games, and sponsor booths. Day 3 is project presentations and wrap-up. We also offer free food and swag!
Visit our website to learn more about the hackathon: https://hackfrostnl.ca/
And make sure to join our Discord to stay connected: https://discord.gg/x5drWuwTT4
We look forward to seeing you!