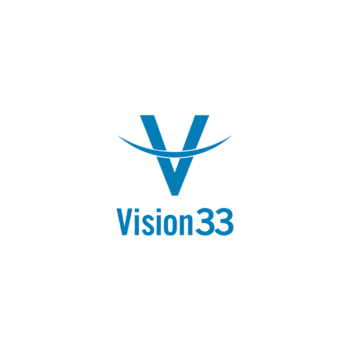 Be part of a transformation and global expansion with Vision33!
Vision33 is a global IT professional services consultancy that solves customer business challenges through the promise of technology and the value it delivers. We partner with growing and large organizations in both the public and private sectors to understand their vision and help them reach it with the right blend of strategy, consulting, and technology.
We help growing companies deliver on the promise of technology through the automation and integration of enterprise resource planning (ERP) solutions like SAP Business One, SAP Business ByDesign, and Sage Intacct as well as human capital management (HCM) solutions like SAP SuccessFactors and BambooHR. Vision33 has the people, processes, and technology to help businesses solve everyday challenges and seize new opportunities for growth and transformation. With Vision33-developed solutions such as iDocuments and Saltbox, Vision33 helps businesses leverage the right transformative technology for their digital transformation journeys.
Due to our continued growth, Vision33 is currently looking to hire an System Integrations Specialist to join our growing team. Given the location of our clients, and the remote nature of the work required, we are flexible on location.
As System Integration Specialist, you will be responsible for:
• Collaborate with key stakeholders across the organization to identify opportunities to streamline processes through reporting and automation.
• Aid in the implementation of custom solutions and integrations to meet business needs.
• Perform account management and administer triggers, workflows, and automations in enterprise level applications such as Zendesk, Smartsheet and HubSpot.
• Write custom reports using complex SQL queries to respond to reporting requests from the Management Team.
• Information Services
• Participate in corporate application upgrades by running test cases, coordinating release management, and liaising between key stakeholders and the development team.
• Prepare and maintain procedural documentation for critical Corporate IT
Management processes.
• Assist with delivering Enterprise Solution training to end users.
• Manage licensing for Enterprise applications including regular system audits.
Excited to face any new challenge, you will bring to this position the following skills and qualifications:
• Information systems and/or Business Degree or College Diploma from a recognized post-secondary institution.
• At least 5 years' experience in designing, implementing and supporting enterprise level integrations with a focus on data quality.
• Expert knowledge and understanding of REST API's. Experience using API tools such as Postman is an asset.
• A high-level understanding of ETL architecture combined with experience applying ETL best practices.
• Proven ability to work with business users to identify and document business problems and recommend technology or business process changes to achieve intended business outcomes.
• Demonstrated competency in data modeling and enterprise data architecture.
• Experience with data integration and transformation technologies such as JSON and XML
• Expert level knowledge of SQL preferably in a Microsoft SQL Server environment.
• Experience with ticket management systems such as Zendesk or other Enterprise level ticketing solutions.
• Experience in building and managing data inventories.
• Excellent problem-solving skills, with a real passion for technology and a desire to help people.
• Ability to work independently while supporting remote teams.
• Flexibility and adaptability to provide timely responses to support requests, while balancing daily tasks and responsibilities.
If you are a passionate business professional, motivated by a fast-paced environment, if you want to get involved in an environment where you can really make a difference, where your ideas will be listened to, challenged, and supported, we want to hear from you!
We offer a competitive total rewards program including, paid vacation and leaves, retirement plan, health and wellness programs, training and development, and various other employee benefits and perks. We offer exciting opportunities for diverse project work, internal mobility, global travel, and so much more. If you want to be part of a global, diverse, passionate and fun environment where you can really make a difference; please submit an online application today!