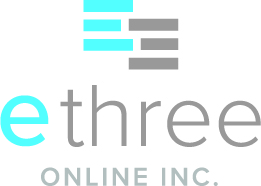 Who We Are
At Ethree Online, we help business unlock the potential of their people through virtual training and onboarding services. We believe business runs on people and relationships. The better your people perform, the better your business will perform – and that's where we come in.
As a virtual service provider, our team works remotely across Canada, but we call Newfoundland and Labrador home as our head office is there.
At ethree, we practice what we PREACH:
Partnership:  we treat our clients as part of our team, working collaboratively to provide the best solutions.
Realism:  we focus on practical solutions that fit client requirements and budgets.
Expertise: we know our stuff and provide accurate and sound advice in the areas we support.  If we can't add value, we don't do it.
Availability:   our clients are 24/7 and we strive to provide the support they need when they need it
Creativity: our solutions are always tailored to our clients, never out of a box.
Holistic Thinking:  we see the bigger picture and we spot things others don't.
Overview of the Role
The Online Administrator will spend their time managing the logistics of virtual programs: building new cohorts through Ethree Online's LMS, registering participants, managing user issues, troubleshooting problems, following up with participants, hosting webinar components and closing out programs when complete.
You have strong organizational awareness and good judgement – you know when to handle something yourself and when to escalate.  You are super organized and have no problem managing multiple programs running at the same time with different clients and participants.  You enjoy connecting with others and have no problem picking up the phone to get things done!
The right person for this role embodies our values.  You never hear them say 'that's not my job' and have a genuine desire to help.  They are organized and thorough with strong attention to detail. They are responsible, have a high degree of self-motivation and love to think of new ways to get things done faster or better. They aren't afraid to speak their mind, or to learn from others.  They have strong interpersonal skills and are very savvy when it comes to who is in the room. They just have a desire to do, and to learn!
Roles and Responsibilities
Add new e-learning and program content to Ethree's LMS system.
Manage and support full-cycle program delivery from registering and setting up user accounts to sending completion information and certificates.
Assist users with system access and completing programs, troubleshooting as needed.
Run and provide reports to clients as required.
Tracking system or course improvements required to enhance the user experience and work with developer and team to drive new releases.
Work closely with program facilitators to support delivery.
Act as webinar host and support.
Work closely with marketing to build awareness and market program offerings.
Track interest in programs and follow up on emails and inquiries.
Other duties as assigned.
Ideal Candidate
Bachelor's degree or post-secondary education in Business Administration or equivalent experience
Experience in a role requiring the handling of client contact and confidential information.
High computer literacy and comfort with various technology platforms and testing.
Previous experience with LMS/HRIS or online learning tools preferred.
Basic knowledge of HTML code editing or experience with website management is an asset.
Proficiency in Microsoft Office software and Windows operating systems.
Proficiency with video conferencing applications, and other distance communication methods,
Strong attention to detail.
Excellent verbal and written communication skills.
Excellent interpersonal communication and interpersonal relationship skills.
Strong organizational and time management skills – ability to meet tight deadlines at a high-quality standard.
At ethree Consulting Inc. we value diversity. All qualified applicants will receive consideration for employment without regard to race, color, religion, sex, national origin, age, disability, genetic information, or any other protected characteristic that makes us unique.
Please note, while we appreciate all applicants for their interest, only candidates selected for an interview will be contacted.
To apply, follow this link https://www.ethree.ca/?page_id=5312
Location: St. John's, NL (Remote)
Application Close Date: March 24th, 2023