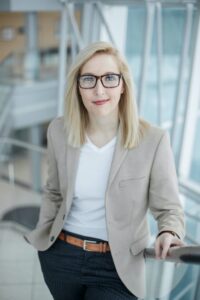 Choose to Challenge – International Women's Day Event
To celebrate International Woman's Day, techNL joined grade nine students at Leary's Brook Junior High with a panel of engaging women working in our province's tech sector. The four panelists included Maddie Coombs (Sequence Bio), Gabriela Estrada (Other Ocean), Johanna Brown (Vision33), and Natalia Negara (Verafin) and the session was moderated by techNL's Marlayne Hardy.
The women shared some of their valuable advice, perspective, experiences and career paths. The underlying message for students was that there are multiple paths, positions, and potential in Newfoundland and Labrador's $1.6 Billion tech industry.  Only 23% of tech employees are women. Our collective efforts can move that needle, demystify the sector and encourage more girls and women to consider a career in the thriving and growing tech sector.
The 2021 theme for IWD is #ChooseToChallenge. We can choose to challenge gender bias and celebrate women's achievements. Collectively, we can all help create an inclusive world. From challenge comes change.
Advice from our Panelists
The world would go around better if we all had more confidence. Do things outside your comfort zone, that's when you learn the most and have the most growth. Keep an open mind but be confident in your own abilities. – Johanna
Challenge yourself on a daily basis, stand up and talk about things. – Natalia
The important thing is to build resilience and learn from those around you. Every individual is different so hone in on the value you bring, learn from others and you'll do great things. – Maddie
Don't be scared of the challenge. You don't know what you're capable of until you push yourself. If something is hard right now, embrace the challenge because you will come out of it enlightened and happier. – Gabriela
Thanks to Ms. Hopkins and Principal Matchim at Leary's Brook for hosting our virtual event!
"[Our students] had many key takeaways, especially due to how approachable and "real" all the panelists were to the students. When we see it, we can be it and seeing these strong female role models in non-traditional career paths was such a privilege for our students! So thanks again and we really appreciate the work you did to make this happen." – Stacey Hopkins, Teacher Librarian, Leary's Brook Junior High