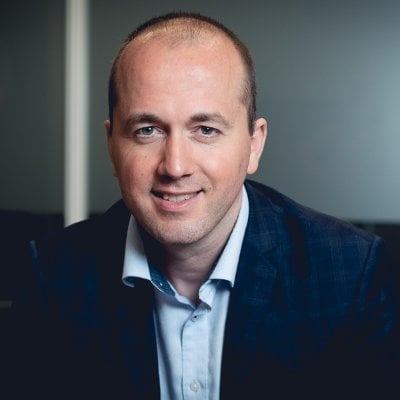 April 4, 2022 – St. John's, NL: After much anticipation the techNL Board is thrilled to announce that Florian Villaumé has been selected as the incoming CEO. The techNL Board Executive Search Committee, in partnership with Knightsbridge Robertson Surrette, underwent a robust and international search to fill this integral role. Starting his new position as of May 24, 2022, Villaumé brings with him substantial experience in the province's tech sector as well as a passion for positively impacting the Newfoundland and Labrador technology and innovation ecosystem.
Villaumé is a bilingual immigrant and innovative leader who has transformed the local entrepreneurship landscape. He launched and developed the Memorial Centre for Entrepreneurship (MCE) into an internationally recognized award-winning university centre for entrepreneurship. Through his experience with MCE, he supported many innovative new companies that are now transforming the local economy with a global reach, including techNL members CoLab, Mysa, BreatheSuite and Metricsflow. He has played an impactful role in the creation of multiple strategic initiatives in the technology sector including Hacking Health, Bounce Health Innovation and multiple internship and digitalization programs.
"The board is excited for this next phase of techNL's development under Florian's leadership," says techNL Board Chair, Dan Brake. "Florian's extensive international experience in innovation, entrepreneurship and economic development make him the ideal candidate to continue the growth of technology and innovation in the province."
Fully committed to diversity, equity and inclusion, Villaumé also has significant experience developing multiple incentives and initiatives to increase the number of representatives from equity-deserving groups in the local technology sector. This commitment is part of his overall growth strategy for the technology ecosystem.
"My goal is to engage with techNL member companies, Board, staff and stakeholders to build on and accelerate the growth and momentum that we have seen in the sector over the past few years," says Villaumé. "Newfoundland and Labrador should be a destination of choice in North America for highly skilled workers worldwide who desire a lifestyle immersed in a vibrant tech sector, a supportive community and spectacular nature."
Florian Villaumé replaces Paul Preston who left the organization in January 2022 to join Genoa Design as their Chief Marketing & Sales Officer.
-30-
ABOUT TECHNL
techNL is a not-for-profit industry association that works closely with members, industry and government to help shape policy and advocate for those issues that matter most to members. As the voice of the $1.6 billion technology sector in NL, techNL's mission is to help members grow and scale through work on talent development, programming, technology advocacy, digital transformation and strategic partnerships. More information can be found on the website technl.ca.
MEDIA CONTACT
Marlayne Hardy
marlayne@technl.ca