"That would be like the biggest thing I tell people: go figure out what you want and lead with it."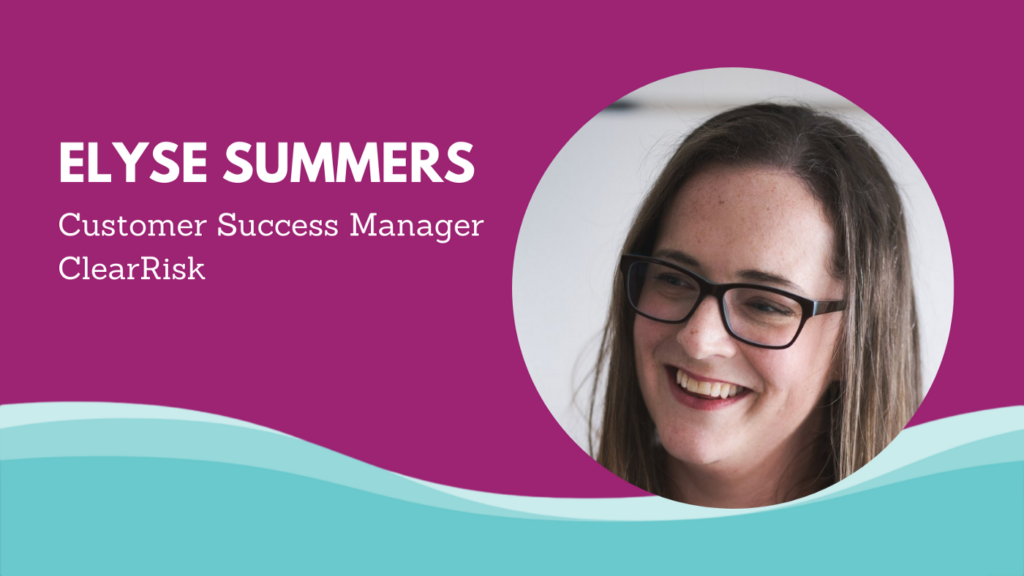 Elyse Summers has worked closely with NL's technology start-up ecosystem for some time, supporting student entrepreneurs at Memorial University before joining techNL member company ClearRisk as a Customer Success Manager in 2021. Her experience, education, and outlook make her an excellent candidate for an interview, and her story shows that you don't need a computer science degree to make it in the tech world.
Wanna learn more about working in tech in NL? Read on for job postings or get connected here.
. . .
techNL: Tell me a little bit about yourself
Elyse Summers: My name is Elyse Summers and I'm located in St. John's, Newfoundland. I'm currently one of the Customer Success Managers at ClearRisk, a software for optimizing risk.
Do you want more about myself? [LAUGHS]
techNL: Sure, follow your heart!
ES: Haha I like lots of stuff, cooking, dogs, people.
techNL: Okay, perfect. So what is Customer Success and what does a Customer Success Manager do?
A lot of people think customer success is customer service and it is not. A Customer Success Manager is a contact within the company for a customer that is introduced early on in the process, as early as when they're onboarding and implementing a new software. I work closely with the onboarding team to make sure that we're meeting the deliverables of what we promised the customer and then I support the customer for their lifetime [with the company].
It's about relationship building and trust, it's about making sure the customer stays happy throughout their lifetime so that they renew with us once their contract is up. It's about helping them find other opportunities to use our software and be more successful in their goals. I do that through customer success sessions where I get feedback from them and then I use that feedback to be an advocate for the customer within the company. When I speak to the product team, when I speak to the development teams and the business teams, I can say, "this is what our customers are asking for, this is what they need to be successful." Customer service is reactive, customers have a problem that they need fixed this very second and [it's] often very technical, but customer success is more proactive. We're looking to help customers stay successful for their whole lifetime [with ClearRisk].
techNL: What were you doing immediately prior to this role?
Immediately prior to this role I was the Community and Marketing Coordinator for the Memorial Center for Entrepreneurship (MCE). I was there for about four and a half years. We helped grow MCE from serving about 30 students a year to over 300 a year [and] we helped launch student companies like CoLab and Mysa and BreatheSuite. I helped to develop programming and I was responsible for the coordination of events like our workshop series and the Mel Woodward Cup.
techNL: Could you please tell us a little bit about your prior education and work experience?
I guess what makes my background weird and wonderful is [that] I have a Bachelor of Fine Arts in Theater Stagecraft. I went to Grenfell in Corner Brook, Memorial Campus, and I learned how to do the background stuff for theater shows, everything from props, carpentry, lighting, sound, scenic painting, wardrobe, etc. I learned how to use power tools and design lighting and run lighting boards and stuff like that [and I] ultimately I became a Stage Manager. I was the person who ran rehearsals and shows, I helped capture all the information and coordinated between the tech teams and the creative teams. I always considered myself an interpreter from the creative of what the director wanted to happen to the technical of the people that had to make it happen. I did that for several years, I toured shows to Ontario and Nova Scotia and all across Newfoundland. I really enjoyed it and I met all sorts of great people, but I always joked that you could easily end up working 365 days a year as a stage manager in Newfoundland, and I got to the point where I didn't feel like I was learning anything new.
Around that time, Republic of Doyle was up and running here in Newfoundland, and I thought, let's try film! So I worked as a Production Assistant and Assistant Production Coordinator for three seasons with Republic of Doyle, a glorified paper pusher in the production office essentially, but it was really cool. I got to meet a whole new set of people and [learn] a whole new set of skills, but film was very all or nothing. It was either you were working 14-hour days plus for six months of the year or there was nothing, and so I again got to a point where I was not learning anything new in that position. I [then] decided I just wanted to change things up [and] I completed my Master's in Library and Information Sciences from Western University in London, Ontario.
After that, I picked up a job back in my production world with a marketing company in town making TV commercials, radio spots, voice-overs, etc. I was a Production Coordinator with them, so I did a little bit of everything from budgeting and finance stuff, to props and wardrobe and casting, and all sorts of weird and wonderful things. I [became] kind of tired of the production world, it wasn't a good fit anymore and wanted to try something new. I was applying all over and I happened to apply to the Memorial Center for Entrepreneurship, not knowing what it was to be honest.
techNL: What education/work experience best prepared you for this role?
Early on I learned I had to learn a little bit of everything I could. As a Stage Manager, I needed to speak with all departments, I needed to know what was going on at all times, and ultimately a lot of it became my responsibility, so it made me a doer. Theater's a very collaborative experience, everybody pitches in. There's not a lot of hierarchy in theater, at least in my experience, and it was all working towards a common goal.
techNL: What do you think is the most important thing you bring to the table at ClearRisk?
It's very front of mind for me right now, I'm actually reading Range: Why Generalists Triumph in a Specialized World by David Epstein. It's about generalists and people with varied backgrounds and it's very relevant [to me]. It took a long time for me to realize this, but my varied background [is what] makes me valuable. It's my curiosity, learning constantly and problem solving. I love learning about people and like talking to people and figuring out what makes them tick.
My outlook [is not] this very strict specialized view, I'm coming from theater/film/marketing/production, and I know a little bit about everything. I used to be really hard on myself and say I was "a jack of all trades, master of none," but I'm starting to realize that like there's some benefit in that.
techNL: What is the culture like at ClearRisk? What's your favourite part of working for ClearRisk?
My favorite part is the people. It's a very welcoming, friendly and open culture. Everyone is very encouraged to speak up, they are very encouraging of education and learning more and taking on things and being inquisitive. I can go up to any single person on our team and have a conversation with them and ask for their help.
It was a pretty steep learning curve when I first started because I was learning a new role [and] a new industry and every person I reached out to helped without question. I've seen it happen time and time again with new people who have come on since myself and I hope I can to do that for other people that come on, to be that friendly helpful person.
It's fun [to work at ClearRisk], it is literally one of our core values built into the company. There's socials, [and] constant joking around. We're a pretty competitive company, in the fun sense . Everything from a curling table in the office, washers tournaments, to an office hockey pool. I know nothing about hockey, but I'm eighth. Just so I can have some bragging rights over the people that actually care. We take the work seriously, but we don't take ourselves seriously. [It's] very collaborative and [my favourite part is] working the people. There's not a bad apple amongst us. I haven't found them yet anyway, maybe they're hiding it, but I haven't found them.
techNL: In your own words, how do you think you "got" this job? What do you remember about your job search and the hiring process?
That is actually something that changed for me this time that was a big, big deal, a gamechanger for me.
When I knew I had reached my ceiling with MCE, for the first time ever I told my supervisor that I wanted to move on. I'd always thought it was something to hide and be ashamed of, that I wanted to move on, but this time I just owned it. [My supervisor's] reaction was, "I agree, you're not growing here, how can I help?" and he emailed more than 12 CEOs and organization directors all across the startup community and asked them to speak with me, not to give me a job, just to speak with me.
I did two main things to find this role and I'll start with the biggest one. I created a list of my core values in a role. For the first time ever, I wasn't just going to be sharing my resume saying these are my skills, and [just applying] for the jobs that are available on a job board. I was like, 'screw that,' I'm not going that route I'm going to use my network. I'm going to start talking to people and say, "this is what I need in a role, do you have any advice?"
I sat down with a notebook and I wrote eight to ten core values, things like: I need to work in a team collaboratively, there needs to be some kind of creative element, there needs to be room for growth and to move into a leadership role, I need to be treated like an adult, I need a company that's going to let me have flexibility and are not going to be counting the hours my butt is in a seat, I need to know that I will constantly be learning and growing because I get bored easily (as my background shows). I knew whatever role I went to it had to tick off these boxes, so from that point on I started meeting with the people that [my supervisor] put me in contact [with]. I [also] reached out to people myself and said, "hey, can we chat?" and the thing is no one said no. Not a single person. So, for the next month, maybe more, I was meeting with multiple people every week [for] anywhere from 20 minutes to an hour-long conversations. We're talking like CEOs of startups that just sat down with me and chatted. Now I knew them, I it wasn't like a cold thing, but like it still blew me away that everyone would give me their time. Through those conversations I learned of books to read, trainings to do, people to talk with, roles and jobs that I should look into, and through that I discovered customer success. I didn't go into it thinking I was going to be a customer success manager, that's how I discovered it.
I actually spoke with Paul Preston from techNL who [connected me] with Craig Rowe, the CEO of ClearRisk. He asked me to send my resume and within 24 hours I had a meeting booked to go speak with Mike Bowman, the VP of Sales and Customer Success [at ClearRisk]. I just went to go chat with him, I wasn't looking at it as a job interview, and we had this great hour-long chat. [During] that conversation and all the other ones previously I led with my core values. I just sat down and said what I was looking for in a role. For the first time in my life, I wasn't sitting across from [the other person] saying, "I hope you like me," I'm sitting here thinking, 'I hope we like each other." I was looking for a fit and because I went into this role so intentional and so clear on what I wanted, I have been able to be intentional in where I'm going. It's been so liberating to not [worry about anyone thinking] I'm too ambitious or I'm overstepping, it's like, no guys, I told you day one that's what I wanted, so there's no surprises.
techNL: What would you say to someone interested in working in a similar position to the one you have today?
That would be like the biggest thing I tell people: go figure out what you want and lead with it.
There're people out there that are afraid to go from whatever they're currently doing to tech, and they think that they need to have four years of a computer science degree and so much experience and there's so many other roles and amazing backgrounds that support the tech industry. We need everybody!
techNL: Clewing up Elyse, what are you working on this week?
We've got some customers renewing, so I need to work on their renewal documentation. We've got some customers that are requesting some new functionality, I've got some training with customers, I've got some internal meetings where we meet to talk about our customers and upcoming projects, etc.
techNL: Thanks so much for this, Elyse, this has been so much fun!
Thank you!
. . .
Interested in working in roles in Customer Success like Elyse's? Check out job openings from current techNL members below:
Account Executive at CoLab Software
Client Success Manager at The Idea Factory
Customer Success Coordinator at Vish
Interested in joining the fun culture at ClearRisk? Check out their current job openings here.
If you're interested in learning more about how you can find a role working with tech or even where to start, please get connected with techNL for connections to employers, education, and resources.