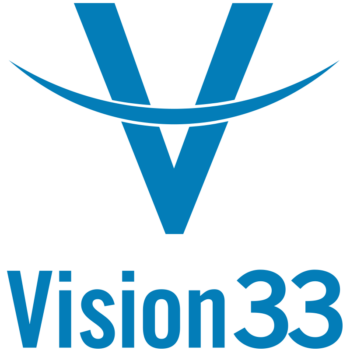 Vision33
Sales Consultant, SaaS
Full Time / Permanent 
Location: Open USA Location
Vision33 helps growing companies deliver on the promise of technology through enterprise resource planning (ERP) solutions like SAP Business One, SAP Business ByDesign, and Sage Intacct, automation, and integration. Vision33 has the people, processes, and technology to help businesses solve everyday challenges and seize new opportunities for growth and transformation. With Vision33-developed solutions such as iDocuments and Saltbox, Vision33 also helps businesses leverage the right transformative technology for their digital transformation journeys.

Are you someone who is driven by overachieving on a target? Do you have a high need for variety and forward momentum in a role? If yes, we have a role for you!  We currently have an opening for a Sales Consultant, SaaS. In this role, you reporting to the General Manager and you will be responsible for the sale of SaaS cloud-based software solutions to develop new customer relationships. As we are a global organization the nature of the work is remote, with the flexibility to visit client locations. If you are experienced in the area of ERP systems within the Small to Medium Business (SMB) space and you are looking for a challenge and an opportunity to maximize your return on invested effort, this position is for you!
As a Sales Consultant, your responsibilities include:
Development and execution of net-new software sales;
Demand forecasting, and ongoing prospect engagement to ensure deep and rich pipeline of opportunities;
Execute on Vision33's sales strategy to ensure targets are met and exceeded, while also delivering on sales forecasts in line with overall business objectives;
Ensure maximum effectiveness in conveying Vision33's full product and service offering(s) to ensure prospects fully understand, and are attracted to, our proposed solution(s) and partnership;
Responsible for prospecting new clients, responding to questions concerning the company's solutions, providing product quotes and solution offerings/options;
Maintain accurate and current reporting/monitoring/updating on activities and progress;
Meet established monthly and yearly sales quota/target(s); and
Articulation and presentation of proposed solutions through in-person sales presentations.

Excited to face any new challenge, you will bring to this position the following skills and qualifications:
Minimum 3 – 5 years' experience selling SaaS cloud-based software solutions;
Excellent consultative selling skills and the ability to forge strong relationships from C level executives to operations level;
Familiarity with the market of industry ERP systems such as SAP, Microsoft, Sage, Netsuite, Acumatica and Macola is an asset;
Technical sales experience, facilitated by excellent interpersonal and communication skills, and the ability to convincingly communicate concepts to others; and
Excellent communication and relationship/partnership building skills.

We offer a competitive total rewards program including: training and development, paid vacation and leaves, retirement plans, health and wellness programs, compensative reward programs and other employee benefits. We offer exciting opportunities for global and diverse project opportunities, internal mobility, travel, and so much more. If you want to get involved in an environment where you can really make a difference and where you can apply your knowledge to achieve results and work with an award-winning global IT professional services organization; please submit an online application today.

For more information on our company please visit our web site at www.vision33.com.