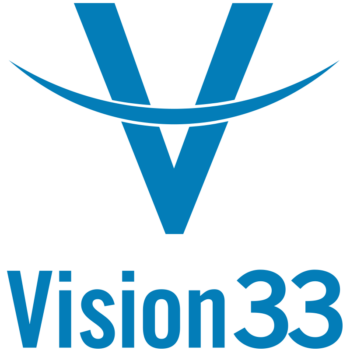 Vision33
​​​​​​Product Analyst, Innovations Cloud and Client Care
Full Time / Permanent
Location: Open, East Coast Canada & US
Be part of a transformation and global expansion with Vision33!
Vision33 helps growing companies deliver on the promise of technology through enterprise resource planning (ERP) solutions like SAP Business One, SAP Business ByDesign, and Sage Intacct, automation, and integration. Vision33 has the people, processes, and technology to help businesses solve everyday challenges and seize new opportunities for growth and transformation. With Vision33-developed solutions such as iDocuments and Saltbox, Vision33 also helps businesses leverage the right transformative technology for their digital transformation journeys.
We have an immediate need for a highly skilled and experienced Product Analyst to support our growing customer base.  As the Product Analyst with Vision33 you will be responsible for leveraging your strong background with Minimum Viable Product Strategy (MVP) to solve complex business problems in a dynamic IT professional services consultancy organization.  You have proven ability to understand end user requirements and translate these into tangible technical documents.  You are an out of the box thinker who speaks facts backed by verifiable data, working to come up with innovative solutions and design ideas that are both logical and practical.  Your knowledge of or direct experience with SAP Business One or other ERP Software will be a strong asset.
Reporting to the Product Manager, Innovations this new permanent, full-time position requires you to be both self-directed and able to thrive in a collaborative, high-performance technology team where priorities often shift frequently.  If you are looking for an analytic, impactful, and dynamic career opportunity offering immediate challenge and future career growth potential, apply today!
Responsibilities:
Support mapping out Minimum Viable Product (MVP) Strategy related to product scope and capabilities of SAP Business One and other relevant ERP solutions.
Assist in researching and defining the problems we need to solve by analyzing Vision33 products, services and consumer data sets.
Translate ambiguous, high level business requirements into verifiable data models, system functionalities, and/or specifications.
Organize and host requirements session with the end users and facilitate to reach agreement on requirements and/or business goals.
Integrate end user/consumer data and feedback to form, justify, and suggest product and service design recommendations using MVP methodologies.
Document all discussion points, minutes and present product related findings and recommendations to stakeholders.
Provide facts backed by verifiable data.
Work with administrators/developers for potential solutions, workload effort estimates, and recommended options.
Participate in regular meeting with external consultants.
Assist with the coordination of resources to successfully launch products and measuring core success metrics to continually iterate and improve future phases.
Product Enablement including training and documentation to provide best practice recommendations to consultants and other stakeholders
Provide recommendations and advocate for current and upcoming platform products and services.
Assist with product roadmap planning
Assist and take part in a system configuration, maintenance, and other enhancement implementations.
Conduct system testing in lower environment and validate implemented solution with structured testing.
Establish and nurture cross-business unit relationships.
Ability to thrive in a dynamic environment where priorities shift frequently.
Qualifications:
Minimum of 3 years Data Analysis or Business Analyst experience or other relevant role in an analytical capacity.
Knowledge of or direct experience with SAP Business One or other modern ERP products (e.g., Sage Intacct, Microsoft Dynamics, Epicor, NetSuite).
Post-secondary education in Business, Computer Science, Information Systems, Finance/Accounting or equivalent work experience.
Excellent verbal and written communication skills.
Attention to detail; and ability to coordinate multiple tasks, set priorities, and meet deadlines.
Strong analytical, quantitative, problem solving, and organizational skills.
Able to proactively work with multiple business lines within the company to drive results and accomplish goals.
Able to work independently while being a team player.
If you are a passionate business professional, motivated by a fast-paced environment, if you want to get involved in an environment where you can really make a difference, where your ideas will be listened to, challenged, and supported, we want to hear from you!
We offer a competitive total rewards program including, incentive program, paid vacation and leaves, retirement plan, health and wellness programs, training and development, and various other employee benefits and perks. We offer exciting opportunities for diverse project work, internal mobility, global travel, and so much more. If you want to be part of a global, diverse, passionate, and fun environment where you can really make a difference; please submit an online application today!
For more information on our company please visit our web site at www.vision33.com.