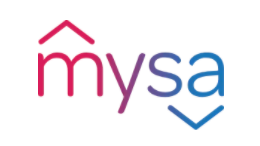 Mysa
Mysa has a progressive company culture that embraces both work-life balance and remote work. The silver lining of the COVID-19 pandemic, if we are to look for one, is that we've been positioned from a company-wide perspective to learn exactly what it takes to successfully manage a remote team – and, we're very proud of what we've achieved. With our core values at heart, we have an in-depth understanding of how imperative it is that all of our people, no matter where they are located, experience our culture and family-like environment in the same manner. We also appreciate that the key to successful remote work is a foundation built upon effective communication, team-based collaboration, and access to all of the right tools.  At Mysa, regardless of your location, you will be positioned for success.
We are currently looking for a highly motivated Bilingual CX Specialist to become a valuable member of our team on a part time basis, based in Quebec. This is a vitally important role at Mysa as you will be a bilingual resource for our CX Installation team, acting as the first point of contact for our French customers – providing the best possible end-user experience by helping to troubleshoot their technical issues, and resolving various inquiries.
This position will provide a minimum of 30 hours per week and will require weekend and evening coverage.
What You Will Do:
Respond to and resolve french customer queries and issues via live chat, social media, and email channels
Proactively engage and interact with our customers using a friendly and conversational tone
Ensure that our innovative technology is utilized to its full extent by our customers
Facilitate and expedite the customer support request process
Adhering to a daily schedule that includes a mix of: phones, chats, and emails
Completing essential follow-up documentation after each interaction
Collaborate with senior team members to ensure all customer needs are met
Drive adoption of products/services across existing and potential international customer bases
Collaborate with the hardware department to develop and execute the most beneficial user experience
Ensure our customers receive an exceptionally outstanding customer support experience
Adhere  to support service level agreements
Who You Are:
Must be willing/able to work a flexible schedule covering shifts on both weekends and evenings
Fluency in French is required
High technical aptitude, and interest in consumer electronics
Exceptional interpersonal skills, with excellent written and verbal communication skills
Passion for technology with proficient troubleshooting skills
Adept critical thinking skills, creative problem solving abilities, and strong multitasking skills
Ability to quickly and professionally understand customer concerns and deliver solutions in a manner that surpasses their expectations
Our Story
Since entering the market in 2018, Mysa Smart Thermostats have been warmly welcomed into  customers' homes, earning thousands of 5-star reviews.
Our mission is to fight climate change! As the premier Canadian-designed smart thermostats for heating and cooling, Mysa creates thoughtful, innovative technology to help our family of customers across North America stay comfortable and save money by using home energy more efficiently. To help us build a greener, more sustainable future, we're creating an ecosystem of energy-saving smart thermostats and fostering a unique, people-first company culture that brings out the very best in our team.
What's in it for you?  
– A rewarding career path that helps you learn, grow,  and showcase your talent
– An environment in which you are recognized and appreciated for what you do
– Unlimited paid vacation (Yep. Unlimited. Paid. Vacation (within reason, of course!)
– Flexible environment (work from a coffee shop, a blanket fort, or your home – wherever you're most comfortable)
– Flexible hours (no set 'office hours'— you work 40 hours per week and meet your role requirements)
– Training and Development Allowance Program
– Health and Wellness Allowance Program
– Competitive salary structure
– Annual salary increases
– Employee Stock Option Purchase Plan
– Comprehensive Group Health, Dental and Vision Benefit Plan
– Employer-matched RRSPs
– Maternity & Parental Leave Top-Up Program
– Fun, quarterly team-building events
– New pair of high-quality noise reducing headphones
– Innovative workflow software and technology (we're major Slackers — internal communications have never been more awesome)
Simply put, we know that people are the heart of our business and we appreciate your  unique qualities and diverse experiences. If this opportunity sounds amazing and you feel that you're a great fit for most of the listed criteria, you should apply —   we value individual abilities over a profile on paper.
Mysa is an equal opportunity employer focused on promoting diversity, multiculturalism, and inclusion. We value diversity of race, gender, sexual orientation, religion, ethnicity, national origin, and all the other fascinating characteristics that make us all different. Your application to this posting is deemed to be consent to the collection, use, and necessary disclosure of personal information to facilitate our recruitment process. We respect the confidentiality and privacy of all of our applicants.
Thanks for thinking about making Mysa your work home. We look forward to getting to know you.