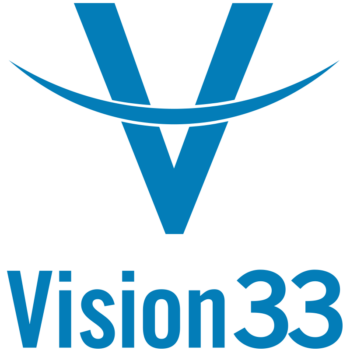 Vision33
Associate Project Manager
Full Time / Permanent
Location: Open Location (Canada)
Vision33 is a global IT professional services consultancy that solves customer business challenges through the promise of technology and the value it delivers. We partner with growing and large organizations in both the public and private sectors to understand their vision and help them reach it with the right blend of strategy, consulting, and technology. Vision33's global team of results-driven resources provide world-class experience through our office locations in North America and Europe.

We are currently seeking an Associate Project Manager to support our continued success and growing customer base for our Saltbox product with the Innovations, Cloud and Client Care team. The Associate Project Manager will work directly with Deliver Managers to deliver on timely project management activities related to the implementation of our fast-pace client projects across varying geographies. You will be responsible for assisting with corporate internal reporting, through the use of SmartSheet, as well as other daily project status reports, documentation, reporting, meeting coordination and resourcing allocations. To be successful in this role you will be required to jointly deliver on projects within a cross-functional team (including other IC3 teams and Vision33 business lines).

You will have the opportunity to apply your skills and knowledge, to gain exposure assisting with the management of multiple full lifecycle projects on behalf of new and existing clients. You will also have the opportunity to contribute to the continuous improvement of project management practices.
To successfully perform the responsibilities of this position, you must possess the following qualifications:
Experience in Project Management within a consulting/professional services environment.
Dedicated problem solving, strong client facing, and excellent oral/ written communication skills.
Ability to work across multiple geographies and projects in a fast-pace environment.
Strong attention to detail and a proven track record in the timely and accurate delivery of data and communications.
Ability to context switch between multiple projects on any given day
Experience in daily and weekly key stakeholders reporting activities using standard internal and client tools.
Superior people skills; team-oriented, a fast learner and very personable.
Self-motivated and driven to achieve success within a consulting environment.

We offer a competitive total rewards program including: training and development, paid vacation and leaves, retirement plans, health and wellness programs, compensative reward programs and other employee benefits. We offer exciting opportunities for global and diverse project opportunities, internal mobility, travel, and so much more. If you want to get involved in an environment where you can really make a difference and where you can apply your knowledge to achieve results and work with an award-winning global IT professional services organization; please submit an online application today.

For more information on our company please visit our web site at www.vision33.com.