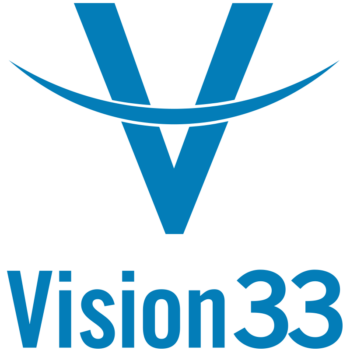 Vision33
Associate Customer Relationship Manager, ERP Solutions
Full Time / Permanent
Location: Open, Central US Location
Be part of a transformation and global expansion with Vision33!
Vision33 helps growing companies deliver on the promise of technology through enterprise resource planning (ERP) solutions like SAP Business One, SAP Business ByDesign, and Sage Intacct, automation, and integration. Vision33 has the people, processes, and technology to help businesses solve everyday challenges and seize new opportunities for growth and transformation. With Vision33-developed solutions such as iDocuments and Saltbox, Vision33 also helps businesses leverage the right transformative technology for their digital transformation journeys.
Due to our current growth and success, we are hiring an Associate Customer Relationship Manager in our Central US Region. In this role you will report directly to the General Manager. The primary focus of the role will be to gain a thorough understanding of the customers' needs and ensure they are getting the most benefit out of their system. The aim is to ensure customer satisfaction and identify future needs. If you are looking to gain experience in the area of ERP systems within the SMB space and you are looking for a rewarding role in an exciting growing business, this position is for you! Given the location of our clients, and the remote nature of the work required, we are flexible on location.
As an Associate Customer Relationship Manager, you will:
Work alongside more senior Customer Relationship Managers to assist with managing customer accounts.

Support the development and maintenance of strong positive relationships with key stakeholders within our customers organizations

.
Assist with the delivery of a solid account plan that delivers value and demonstrates a full understanding of the customer and their business.

Ensure that our clients fully understand and are attracted to our proposed solutions.

Support the management of ongoing client engagement, answering questions regarding the company's solutions, as well as monitoring account progress and activity.

Support Vision33's sales strategy to ensure targets are met and exceeded, while also delivering on sales forecasts in line with overall business objectives.

Ensure customer retention targets are met.
To successfully perform the responsibilities of this position, you must possess the following qualifications:
Experience in an account management role selling and maintaining business software solutions in the SMB market.

Strong consultative selling skills with proven relationship-building skills.

Ability to learn quickly and has a general knowledge of business processes.

Familiarity with the market of industry ERP systems such as SAP, Microsoft, Sage, and NetSuite is an asset.

Technical knowledge and sales experience, facilitated by excellent interpersonal and communication skills, and the ability to convincingly communicate concepts to others.

An understanding of manufacturing and distribution.
We offer a competitive total rewards program including: training and development, paid vacation and leaves, retirement plans, health and wellness programs, compensative reward programs and other employee benefits. We offer exciting opportunities for global and diverse project opportunities, internal mobility, travel, and so much more. If you want to get involved in an environment where you can really make a difference and where you can apply your knowledge to achieve results and work with an award-winning global IT professional services organization; please submit an online application today.
For more information on our company please visit our web site at www.vision33.com.